Virtual Expo
100 years of public health history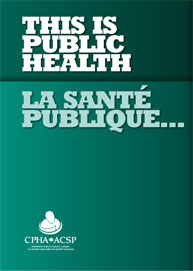 See the virtual expo as a slide show
(PDF: 25mb)
Click your way through this virtual EXPO. Click on the main captions for an overview of each section. The individual storyboards can be enlarged.
Enter: The Early Years
The EXPO begins in the early 1900s, when most Canadian communities were faced with staggering public health problems--unsafe water, overcrowded and slum housing, poverty, malnutrition, and unsafe food and milk. Contagious diseases were the leading cause of death back then and many women and children died during childbirth.
A Period of Rapid Change
Tour through a period of rapid change, when maternal health began to improve and progress was made against contagious diseases, thanks to the work of public health nurses and inspectors.
Canada's Public Safety Net
Learn about the creation of benefits and programs that would bring a significant measure of security to the lives of Canadians.
Health Promotion and the Determinants of Health
As you travel through these 100 years, you'll come face to face with some outstanding individuals, like Heather Crowe who demanded better laws to protect workers from second-hand smoke and Ron Draper, the driving force behind the First International Conference on Health Promotion.
12 Great Achievements
Finish the tour with a stroll along the avenue of Great Public Health Achievements.