Tobacco and Vaping Control Forum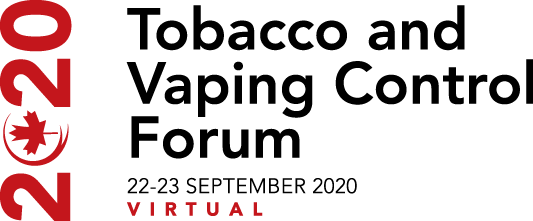 While we are living with uncertainty on a day-to-day basis, we remain hopeful for future. The health and safety of our attendees is our top priority. CPHA continues to monitor the COVID-19 situation and the guidelines from public health authorities concerning public events. At this time, the Forum remains scheduled for 6-7 October. CPHA will continue to update the Forum website as the situation evolves.
The 2020 Tobacco and Vaping Control Forum will be held 6-7 October 2020 in Ottawa, Ontario. The Forum is a key knowledge exchange event for public health and allied health professionals, researchers, policy-makers, academics, students and trainees committed to sharing best practices and policies to prevent, reduce, and control tobacco use and vaping.
To receive regular updates on the 2020 Tobacco and Vaping Control Forum, please sign up to our mailing list.
Important dates
Abstract submitters notified of results: Tuesday 30 June
Registration opens: July 2020
Preferred hotel rate closes: Thursday 10 September
Scientific Program
The Scientific Program will be developed by the Forum Steering Committee based, in part, on the submissions received through the open call. Session types will include:
Plenary sessions composed of a keynote speaker or panel of distinguished speakers which are planned by the Steering Committee;

Workshops and symposia that provide delegates with concrete skills and knowledge on various topics chosen by the Steering Committee based on the open call for submissions and the results of the peer review process; and
Oral and poster presentations, selected based on the results of the open call and peer review process.
CONFERENCE OBJECTIVES
The 2020 Tobacco and Vaping Control Forum will provide participants the opportunity to:
Profile new research, successful strategies and best practices in tobacco and vaping control.
Connect stakeholders to shape the future of Canada's tobacco and vaping control research, policies and programs.
Examine current tobacco and vaping control-related issues from various disciplines and sectors and discuss relevant knowledge translation approaches.
Explore strategies to address emerging issues and potential impacts on decision-making, research, policy and practice.
LEARNING OBJECTIVES
Having attended the 2020 Tobacco and Vaping Control Forum, delegates will be better prepared to:
Utilize effective evidence-based programs and best clinical practices as well as policy approaches.
Describe tobacco and vaping control-related research and identify colleagues and partners to develop initiatives.
Identify tobacco and vaping control-related challenges and solutions, trends, emerging issues and evidence gaps.
---
PROGRAM-at-a-glance
Subject to change.
Tuesday 6 October
| | |
| --- | --- |
| 8:30 - 10:00 | Opening Plenary |
| 10:00 - 10:30 | Refreshment Break |
| 10:30 - 12:00 | Concurrent Sessions 1 |
| 12:00 - 13:00 | Networking Lunch  |
| 13:00 - 14:30 | Concurrent Sessions 2 |
| 14:30 - 15:00 | Refreshment Break |
| 15:00 - 16:30 | Plenary II |
Wednesday 7 October
| | |
| --- | --- |
| 8:30 - 10:00 | Plenary III |
| 10:00 - 10:30 | Refreshment Break |
| 10:30 - 12:00 | Concurrent Sessions 3 |
| 12:00 - 13:00 | Networking Lunch |
| 13:00 - 14:30 | Concurrent Session 4 |
| 14:30 - 15:00 | Refreshment Break |
| 15:00 - 16:30 | Closing Plenary  |
THE CALL FOR SUBMISSIONS IS NOW CLOSED
Submission acceptance
Each submission is scored by at least two independent peer reviewers. Final acceptance will be determined by the Steering Committee.
Submitters will be notified of the result on or before Friday 30 June.
Upon acceptance, all speakers must complete a disclosure form. 
All speakers who present must register for at least one day of the conference in order to be included in the program. Exhibitor and sponsor passes CANNOT be used by presenters.
Accepted abstracts and PowerPoint presentations will be posted on the CPHA conference website at the conclusion of the forum. Presenters may request that the presentation not be posted. 
---
REGISTRATION
Registration will open July 2020.
The 2020 Tobacco and Vaping Control Forum will provide a dynamic environment to share the latest research and information, promote policies and develop best practices to reduce tobacco use across the country.
Industry Involvement
In the past 5 years, have you been employed by or received research support or other funding from, or had any professional relationship with, an entity directly involved in the production, manufacture, distribution or sale of tobacco, tobacco products, or vaping products, or represented the interests of any such entity?
If yes, you will be contacted by the Conference Secretariat to confirm if your registration will be accepted. CPHA reserves the right to refuse entry to this event to any individual who has ties to the tobacco or vaping industry. Failure to disclose any such relationship will result in your removal from the event and you will forfeit your registration fee.
| | | |
| --- | --- | --- |
| Full Forum |   | Rate |
|   | Participant | $500 |
|   | Student | $350 |
| Daily |   |   |
|   | Participant | $275 |
|        | Student | $200 |
Proof of full-time student status required.
Payment Options
For online registration, a Visa or MasterCard is required to complete the transaction. To request an invoice payable by cheque or credit card, contact conference@cpha.ca. 
Substitution and Cancellation Policy
If you're unable to attend the forum you may designate someone to attend in your place. Requests must be made by the person registered and received by e-mail on or before 1 October 2020. No substitutions will be granted thereafter.
Requests for cancellations received by e-mail on or before Thursday 10 September 2020 will be subject to a $50 cancellation fee. Requests after 10 September will be subject to a $100 cancellation fee. No cancellations will be granted after 29 September 2020. 
---
Accommodations
A room block has been reserved for Tobacco and Vaping Control Forum delegates at the Brookstreet Hotel. To make your hotel reservation, contact the hotel directly and refer to the Group Code. Rates are guaranteed until Thursday 10 September 2020.
Booking your hotel within our room blocks is an important way to support the Association as we can incur significant costs for rooms that remain unsold. Staying "within the block" is also more convenient and helps you stay connected with the informal activities and networking opportunities that occur at the hotels during the conference.
525 Legget Drive
Ottawa, ON  K2K 2W2
Toll-Free: 1-888-826-2220
Book Accommodations at the Brookstreet
---
Have Questions?
Contact us at conference@cpha.ca or 613-725-3769, extension 126.
Steering Committee
Ian Culbert, Canadian Public Health Association (Chair)
Mohammed Al-Hamdani, Canadian Lung Association, Nova Scotia
John Atkinson, Canadian Cancer Society
Michel Blanchard, Health Canada, Tobacco Control Directorate
Kevin Coady, Newfoundland and Labrador Alliance for Control of Tobacco
Flory Doucas, Coalition québécoise pour le contrôle du tabac
Les Hagen, Action on Smoking & Health
David Hammond, University of Waterloo
Stephanie Menezes, Heart and Stroke Foundation of Canada
Lesley James