Overview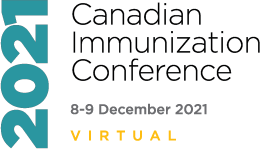 Immunization protects individuals and communities by preventing the spread of disease. As more people are immunized, the disease risk for everyone is reduced. Immunization has probably saved more lives in Canada in the last 50 years than any other health intervention. Immunization is the single most cost-effective health investment, making it a cornerstone in the effort to promote health.
The ongoing occurrence of vaccine-preventable disease outbreaks makes the Canadian Immunization Conference an important venue to discuss the recurrence and emergence of infectious diseases that are posing challenges for public health at all levels. Critical to our degree of preparedness are an ability to continue to develop and improve vaccines, strengthen public health surveillance systems, and support timely and practice-relevant immunization program research, as well as an encouraging of evidence-based and ethical policy and practice measures to help us better control infectious diseases and improve public confidence in vaccines.
The conference will embrace technology and present sessions December 8 – 9 from 10:30 - 17:45 (Eastern Standard Time) daily where over 600 participants will connect, collaborate, share and learn. The Organizing Committee engages with experts and thought-provoking speakers to develop an innovative scientific program that will challenge participants to inspire future research, policies, and practices.
Sign up to our conference mailing list for important conference updates.
Social media: #CIC2021CCI
Preliminary PROGRAM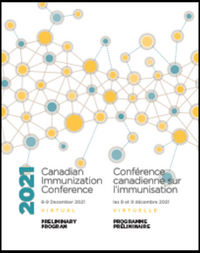 Download the Preliminary Program (PDF, 2.3 MB)
Updated: 26 October, 11:30 EDT
LEARNING OBJECTIVES
Having attended CIC 2021, delegates are better prepared to:
Utilize effective evidence-based programs and best clinical practices, as well as policy approaches.
Describe vaccine-related research and identify colleagues and partners to develop initiatives. 
Identify vaccination-related challenges and solutions, trends, emerging issues and evidence gaps.
EXECUTIVE COMMITTEE
Ian Culbert, Canadian Public Health Association
Manish Sadarangani, Canadian Association for Immunization Research and Evaluation
Marie Adele Davis, Canadian Paediatric Society
Erin Henry, Public Health Agency of Canada
COLLABORATING ORGANIZATIONS