Grade 6 Poster Contest. Infectious Disease & Climate Change: Awareness & prevention in your community
The Canadian Public Health Association's poster contest is an opportunity for Grade 6 students from across Canada to learn more about climate sensitive infectious diseases like Lyme disease and West Nile virus, and share awareness and prevention information with their friends, family and communities. Submissions must be received by 31 March 2023.  
What are climate sensitive infectious diseases? Many diseases are sensitive to changes in the climate, including Lyme disease, West Nile virus, hantavirus, E. coli, giardiasis and salmonellosis. As the climate changes, so too do the patterns of who and where people get the disease. Learn more about climate sensitive infectious diseases.  
Who can enter? Grade 6 students registered in a Canadian school during the 2022-2023 school year.  
Prizes: Prizes will be awarded to a National Winner, a National Runner-up, and Regional Winners from Atlantic Canada, Quebec, Ontario, the Prairies, Alberta, and British Columbia & the Territories.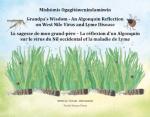 All winners will receive a copy of the book Grandpa's Wisdom – An Algonquin Reflection on West Nile Virus and Lyme Disease
     by Albert Dumont. 
     Prizes must be accepted as rewarded.
     CPHA reserves the right to substitute a prize of equivalent value. 
classroom Resources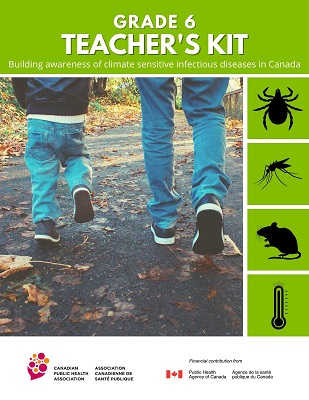 Teachers: Are you looking to incorporate climate change and infectious disease topics into your lessons? We have developed a Teacher's Kit for you. This toolkit includes a five-lesson plan to guide teachers in facilitating a rich, cross-curricular learning experience for students, borrowing on skills from Science, Math, Language, Geography, Physical Education, Health, and Art. It also includes instructions on helping your students develop their poster entries, and links to additional resources including videos, websites and other teaching materials.  
The Teacher's Kit includes five lessons plans and the following fillable pdfs, that can be downloaded separately:
POSTER GUIDELINES

Materials: Posters must be done by hand, using markers, pencils, pencil crayons, pastels and/or paint. No computer drawings or clipart. No cut and pasted materials or three-dimensional submissions. 

Format: Posters must be no smaller than 11" x 8.5" (279mm x 216mm) and no larger than 17" x 11" (432mm x 279mm).

Content: Posters must include a drawing that demonstrates how to prevent a climate sensitive infectious disease. The poster must also include a call to action, which tells people what they can do to help prevent the disease. All designs must be unique. No copying from other resources (textbooks, web sites, magazines etc.) 
Examples of climate sensitive infectious diseases include: Lyme disease, West Nile virus, hantavirus, E. coli, giardiasis, and salmonellosis. For more information on climate sensitive infectious diseases, use this information kit, and look them up on the Government of Canada website.
A call to action is a phrase that tells the reader what action to take, and how to take it. (e.g. "Prevent mosquito bites to protect yourself from West Nile virus; wear insect repellant"). 
Language: The call to action on the poster can be written in English, French, and/or a language relevant to the student's local community. 

What makes a great poster?
Imaginative design 
Correct spelling
Easy to read from a distance
Colourful
It shares a message with your friends and community about how they can protect themselves from Lyme disease, West Nile virus, or another climate sensitive infectious disease. 

See the winning entries from the 2022 Poster Contest.
HOW TO ENTER
Posters can either be mailed or submitted electronically. 

To mail your poster:    
Print the entry form (single form / multiple forms)
Glue the completed entry form to the back of your poster 
Mail posters flat (not folded or rolled)
Mail to: Grade 6 Poster Contest 
        c/o Canadian Public Health Assoc 
        404 – 1525 Carling Ave. 
        Ottawa ON  K1Z 8R9   
To submit electronically:
Submissions must be received by March 31, 2023 at 11:59pm EST. 
CONTEST RULES
Individual entries only.
Open to Grade 6 students registered in a Canadian school during the 2022-2023 school year.
Posters must focus on preventing a climate sensitive infectious disease.
Posters must use the materials and format outlined above. 
Submissions that do not meet the rules will be disqualified. 
Posters submitted with incomplete entry forms will be disqualified. 
All original paper artwork submitted to the contest is retained by the Canadian Public Health Association. 

Questions? Please email us at: contest@cpha.ca 
FAQS
I teach a split grade class. Can students from other grades participate in the contest too?
The contest is only open to students enrolled in Grade 6 for the 2022-2023 school year. You are welcome to use the Teacher's Kit to inspire lessons on infectious disease and climate change for other grade levels. Some split grade teachers create a different capstone project for their Grade 5 or Grade 7 students, such as a writing assignment or drama performance. 
When will the winners be announced?
Winners will be announced between late April and early May 2023.
MEDIA AND PROMOTION
Use the images below to easily share information about our Grade 6 Poster Contest through email, newsletters and your organization's social media platforms:
You can also share or retweet CPHA's posts about the poster contest on Facebook, Instagram, and Twitter.
---