Grade 6 Poster Contest. Infectious Disease & Climate Change: Awareness & prevention in your community
The Canadian Public Health Association's poster contest is an opportunity for Grade 6 students from across Canada to learn more about climate sensitive infectious diseases like Lyme disease and West Nile virus, and share awareness and prevention information with their friends, family and communities. This contest has now closed
CONGRATULATIONS TO The 2023 Poster Contest Winners!
See the winning entries from the 2023 Poster Contest
classroom Resources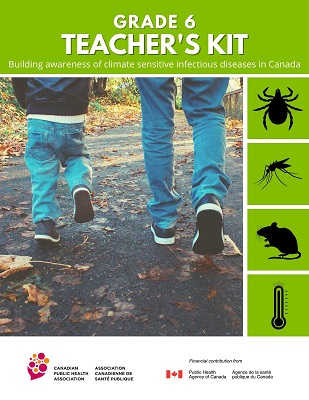 Teachers: Are you looking to incorporate climate change and infectious disease topics into your lessons? We have developed a Teacher's Kit for you. This toolkit includes a five-lesson plan to guide teachers in facilitating a rich, cross-curricular learning experience for students, borrowing on skills from Science, Math, Language, Geography, Physical Education, Health, and Art. It also includes instructions on helping your students develop their poster entries, and links to additional resources including videos, websites and other teaching materials.  
The Teacher's Kit includes five lessons plans and the following fillable pdfs, that can be downloaded separately:
---