Jordan's Principle and Public Health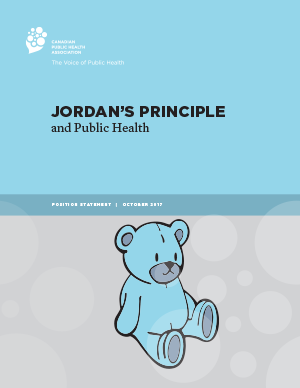 The Canadian Public Health Association supports Jordan's Principle, and calls on the federal, provincial and territorial governments to fully implement the Principle and address inter-jurisdictional disputes related to the provision of health and social services and/or supports to First Nations' children.
Jordan's Principle is an approach to resolving disputes related to the provision of public services (including health) to all First Nations children living on- or offreserve. The principle provides a child-first approach to meeting the needs of First Nations children in a culturally appropriate and efficient way (within 48 hours); it requires that the government of initial contact with a child fund the health care and social services needs without delay or disruption of services. Any funding disputes among government organizations are to be resolved later through a jurisdictional dispute resolution mechanism. The principle components include:
Resolve situations where governments/departments cannot agree on who should pay for services/supports for a First Nations child; 
Cover costs for health and social services/supports for First Nations children in situations when access to publicly funded programs is not available; and
Facilitate access to health and social services/ supports to all First Nations children without delay or disruption.
 
---
Document
---