Creating a National Forum for Knowledge Exchange, Capacity Building and Collaboration to Address Infectious Diseases and Climate Change
CPHA has been funded by the Public Health Agency of Canada through the Infectious Disease and Climate Change Fund for the "Creating a national forum for knowledge exchange, capacity building and collaboration to address infectious diseases and climate change" project to run July 2020 to March 2024.
The goal of the project is to increase the knowledge and capacity of, as well as collaborations among, professionals and providers across Canada so that they can inform and educate their communities and respond to the increasing demands posed by climate change and infectious diseases. Through scoping and engagement activities we will determine what work is being done at national, provincial/territorial, regional and local levels.
Our objectives are to ensure that professionals and providers have:
access to evidence-informed resources, capacity building tools and networks needed to support accurate guidance and advice for populations, communities and clients concerning climate change and infectious diseases; and,
the knowledge and capacity to better predict and respond to climate change and infectious diseases in their communities.
INFECTIOUS DISEASE AND CLIMATE CHANGE FORUMClimate-related factors propel the emergence and re-emergence of infectious diseases. As our climate changes, animals and organisms are able to live in places that were previously unsuitable habitats, increasing the risk and transmission of disease. Consequently, small changes to climate impact where and how many people get these diseases. To continue to highlight the relationship between climate change, infectious disease, and health, CPHA is hosting its second Infectious Disease & Climate Change (IDCC) Forum. 

The IDCC Forum is a key knowledge exchange event for public health and allied health professionals, researchers, policy-makers, academics, students, and trainees committed to sharing their research, best practices, and policies to deal with the impacts of climate change on infectious disease, and on the health of everyone in Canada. 

The IDCC Forum will be held virtually 8-9 November 2023, from 11:00–15:45 (EST).

Learn more
WEBINAR SERIES Our webinar series features presenters from across the country who explore current and emerging infectious disease and climate change topics to share knowledge, research and best practices. 
UPCOMING WEBINARS
One Health and Climate Driven Tick-Borne Diseases 
with Dr. Jacqueline Badcock
Tuesday, 26 September 2023 | 12:00-13:00 (ET) 
Climate change is expanding the geographic range of Ixodes scapularis ticks and the risk of Lyme disease is increasing in New Brunswick. In response, our project's purpose was to build capacity of the health care sector with a tick diagnostic laboratory service and increase knowledge and awareness.  This project is an example of One Health and how this approach provides opportunities for increased multi-sectoral collaborations that together have a greater impact. One Health can enhance adaptive capacity related to climate change and climate-driven tick-borne diseases and increase resiliency. 
The role of climate change in the spread of vectors and vector-borne disease in Windsor-Essex County
with Artem Sergeev & Christy Lalonde
Tuesday, 10 October 2023 | 12:00-13:00 (ET)
This presentation will discuss the emergence of West Nile virus (WNV) and Lyme disease as significant health concerns in Canada, particularly in the Windsor-Essex County area. Vector-borne diseases like WNV and Lyme disease are affected by climate change due to the impact of temperature, precipitation, and humidity on the lifecycles of mosquitoes and ticks. The study revealed that increasing temperatures in January and February, along with more days exceeding 30°C in May, contribute to higher rates of WNV-positive pools and annual WNV cases. The findings suggest that health units should adjust their strategies for managing vector-borne diseases based on these climate-related parameters to better assess and communicate risks to the public for effective health protection.

REGISTER HERE
RECORDINGS
View our complete Webinar Series on Infectious Disease and Climate Change or choose from the individual webinars listed below.
External webinars can be found in the resources section.
Waterborne Infectious Diseases Associated with Exposure to Tropical Cyclonic Storms in the United States, 1996–2018 | Watch now

The spread and emergence of tick-borne pathogens in Central Canada under climate warming | Watch now

Surveillance of Neglected Mosquito- and Tick-Borne Pathogens in Southern Manitoba | Watch now

National Baseline Survey of Tick-Borne Disease Awareness | Watch now

We All Take Care of the Harvest (WATCH): Safe and secure harvesting of marine foods in a changing climate | Watch now

Laying the groundwork for predictive models of West Nile virus cases  | Watch now

Climate change and tick-borne diseases: A One Health approach in Alberta, British Columbia, and Saskatchewan | Watch now

Preparing the next generation of One Health practitioners to combat climate change | Watch now

Companion Animal Surveillance: How can our companions contribute to Public Health? | Watch now

Maritime Mosquito Monitoring: Tracking range expansion and mosquito populations in Nova Scotia | Watch now

Health of Canadians in a Changing Climate: Chapter 6 - Infectious diseases | Watch now

Epidemiological and predictive modelling of recreational water quality risks at Canadian beaches | Watch now

Public and expert perceptions of climate change and health: Focus on infectious disease with Laura Cameron and Gillian Pritchard | Watch now

Modelling the future of Arctic fox rabies dynamics and associated risk management with Dr. Patrick Leighton and Agathe Allibert  | Watch now

Exploratory study of the presence of invasive mosquito species in Leamington, Ontario with Phil Wong  | Watch now 

From prey to hunter: Training mosquito- and tick-borne diseases education ambassadors to meet outreach and surveillance challenges in Canada with Karl Forest-Bérard | Watch now
Incidence, location, wildlife reservoir species and biogeographical modeling of leptospirosis in the Canadian Maritimes | Watch now
Tick surveillance goes online: Progress and preliminary results of the eTick program in Canada | Watch now
The Climate Atlas of Canada: Educational tools on infectious diseases and climate change | Watch now
The impact of lethal rat control techniques on the ecology of climate-driven vector-borne zoonotic pathogens: focus on Bartonella spp. | Watch now
Study of distribution of invasive mosquitoes in Newfoundland and Labrador and St. Pierre and Miquelon: a citizen science approach | Watch now
Emerging vector-borne diseases in Eastern Ontario: eco-epidemiological research in action | Watch now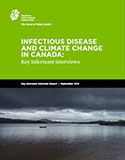 KEY INFORMANT REPORT
CPHA conducted 16 key informant interviews during the fall of 2020 with professionals representing several sectors, including public health, climatology, environment, engineering, health care and planning. The report summarizes conversations with key informants, describing what is currently happening in Canada with respect to climate change and infectious diseases. It also highlights challenges and opportunities within this emerging field of inquiry.  
Read the report.
POSTER CONTESTOur national poster contest is an opportunity for Grade 6 students from across Canada to learn more about climate sensitive infectious diseases like Lyme disease and West Nile virus, and share awareness and prevention information with their friends, family and communities. 
---