Overview

Public Health 2021 is the national conference where public health professionals, researchers, policy-makers, academics, students and trainees come together to strengthen efforts to improve health and well-being, to share the latest research and information, to promote best practices and to advocate for public health issues and policies grounded in research.
CPHA will embrace technology and present sessions October 6 – 8 from 11:00-16:00 (Eastern Standard Time) daily.
Sign up to our conference mailing list for important conference updates.
Social media: #PHSP21
Final PROGRAM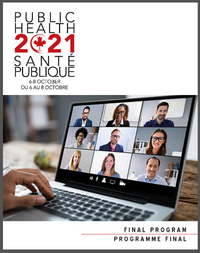 Updated: 6 October; 13:45 (EDT)
Session RECORDINGS
If you were unable to join us for Public Health 2021, register today to access the recordings. All sessions listed in the Final Program were recorded and the registration fee is $75 for participants or $40 for students.
If you are a registered participant and did not receive the email detailing login credentials to the Presentation Gallery, please email conference@cpha.ca.
Learning objectives
Having attended Public Health 2021, participants will be better prepared to:
Articulate the current status of public health evidence, research, policy and practice;
Identify public health challenges and related solutions, trends, emerging issues and gaps;
Utilize effective evidence-based public health programs, practices, structures and systems; and
Identify strategies for knowledge translation and exchange.