Reflections on the first year of work
Annie Duchesne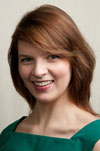 I graduated in May 2014 from my Masters of Public Health at McGill. After 20 years of full-time education, it was time to enter the workforce. I began working as the Research Coordinator for the Old Brewery Mission, a homeless shelter in Quebec. As spring approaches, I can look back on this first working year and share some observations and insights:
Your volunteering and internship experiences are useful.

As a student, I volunteered and interned with several organizations, including Best Buddies Canada, Physicians for a Smoke-Free Canada and CPHA. These experiences allowed me to try out many different tasks, including knowledge translation, policy research, and project coordination, and helped me to discover what I was truly interested in doing for a career. I discovered that I wanted to work in a not-for-profit setting. I learned that I wanted to hold a leadership role and that I liked to be involved with different kinds of projects. Besides helping to narrow my focus, these experiences helped me to stand out from the crowd and land my first job.

The work style can take some getting used to.

When I graduated, I had to adjust to a dramatic change in schedule. Bouncing from class to class breaks up your day in a structured way and the variety keeps you engaged. Sitting in your office for 8 hours can be difficult. I found I had to manage my time diligently in order to work effectively. That being said, I got my evenings back. As a graduate student, I went to school all day, then came home to the apartment to do homework at night. Now, I go to the office during the day, then come home to do the activities and hobbies that I enjoy. It is a wonderful feeling.

The scope and timeline of work may be different from what you're used to in university. Homework assignments generally have a quick turnover period; not all workplaces operate this way. In school I would have an assignment due per class per week. These short-term projects stand in stark contrast to the kind of assignments I have now – mostly long-term work broken down into manageable chunks. My current project is expected to run for two years! The scale of the work and the time frame gives me the opportunity to delve into a subject in-depth and take the time to do it right.

You're never done learning.

There is always room for improvement. However, the workplace feedback system is completely unlike graded homework assignments. In university, the grade system is easily interpretable, but it does not always give you the tools you need to improve for the next time. In the workplace, feedback comes from conversations with co-workers and bosses. These informal performance evaluations provide ample information for improvement. While it is not as regular and straightforward as the grading system, it is much better at helping you to refine skills. Collaborating with stakeholders and observing experienced co-workers are also fantastic ways to learn.
---