Invest in Renewable Energy for a Healthy, Green and Just Recovery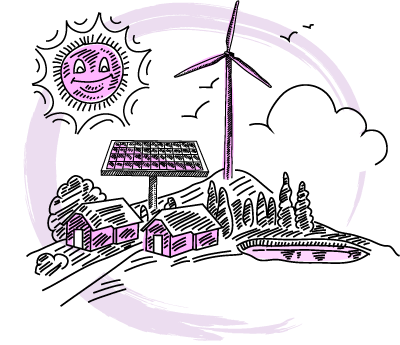 Over the coming years, the federal government will be investing in programs and policies to kick-start the Canadian economy and get people back to work after COVID-19. These investments provide an opportunity to redirect our economy and communities to address the growing threat of climate change, make our communities healthier and more resilient, while also reducing the health inequities in our society that have been highlighted by the pandemic.
To create a more sustainable world, we must significantly reduce our reliance on fossil fuels because their extraction and use releases greenhouse gases (GHGs) that are causing global warming and disrupting ecosystems around the world. The transition away from fossil fuels will require a fundamental transformation in our society. While we have used coal, oil, natural gas, gasoline and diesel to power our factories, heat our buildings, and fuel our vehicles, we will need to use electricity in the future.
To meet growing demands for electricity, we will need to expand our power grid and make it more reliable and resilient, while ensuring that the electricity generated emits no GHGs and produces as little air and water pollution as possible.
By transforming Canada's electricity sector into a reliable and resilient system based on renewable energies such as solar, wind and hydro power, we can reduce GHG emissions that are fuelling global warming, cut emissions of air pollutants and toxics that are harming human health, create new jobs and prepare our economy for a sustainable future.
Use your voice to support greater investments and a faster transition to renewable energies to create healthy, green and just communities.
The Canadian Health Association for Sustainability and Equity (CHASE), the Canadian Public Health Association (CPHA) and the Ontario Public Health Association (OPHA), have collaborated on a series of factsheets and backgrounders on investments that have the potential to improve public health, decrease health inequities, and promote climate action. This is the fifth in that series.
Additional information on this topic is available in a Backgrounder on the health, social and climate benefits associated with renewable energies (complete with references), and a Factsheet that provides a high-level summary of those benefits for the public.
Please share these materials through your networks and feel free to post links to them on your websites.
---